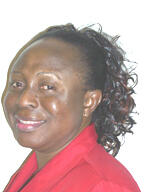 Rose Okrah, is from Ghana, and she is a doctoral student in the School of Social Work. She has a BA in Social Work with Psychology from the University of Ghana and an MSW in Social Work from Washington University, St. Louis. She taught math in the public schools in Ghana and organized career and reproductive
health counseling for youth. She worked with the World Food Program to promote girls' education in Ghana and organized training programs and workshops on gender analysis for education officers and ministers.
Rose has won several International Peace Scholarships, as well as the Sander Fellowship. She has presented
papers at conferences and has a co-authored article under review. Her research examines the risks and protective factors following the loss of women's property rights in Ghana and the effects of assets acquisition on their social and economic well-being.