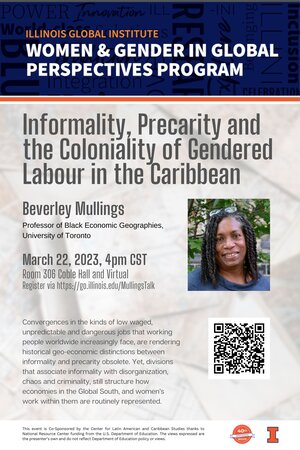 WGGP hosted Dr. Beverley Mullings, a Professor of Black Economic Geographies at University of Toronto, on March 22, 2023 for talk "Informality, Precarity and the Coloniality of Gendered Labour in the Caribbean" 
The event talked about the convergences in the kinds of low waged, unpredictable and dangerous jobs that working people worldwide increasingly face, are rendering historical geo-economic distinctions between informality and precarity obsolete.  Yet, divisions that associate informality with disorganization, chaos and criminality, still structure how economies in the Global South, and women's work within them are routinely represented.

This event was co-sponsored by the Center for Latin American and Caribbean Studies thanks to National Resource Center funding from the U.S. Department of Education.  The views expressed are the presenter's own and do not reflect Department of Education policy or views.