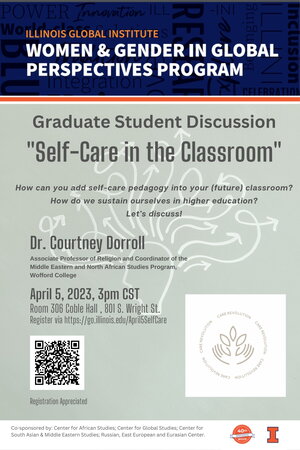 On April 5th, 2023 Women and Gender in Global Perspectives Program invited Dr. Courtney Dorroll to host a Graduate Student Discussion on "Self-care in the Classroom". The event took place at 306 Coble Hall at 3 pm.
Dr. Courtney Dorroll is Associate Professor of Religion and Coordinator of the Middle Eastern and North African Studies Program at Wofford College.
Co-sponsored by: Center for African Studies; Center for Global Studies; Center for South Asian & Middle Eastern Studies; Russian, East European and Eurasian Center.