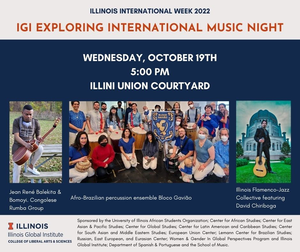 On October 19, 2022 Illinois Global Institute centers and the African Students Organization in the Illini Union Courtyard hosted an evening of international music, featuring the Afro-Brazilian percussion ensemble Bloco Gavião, the Illinois Flamenco-Jazz Collective featuring flamenco guitarist David Chiriboga, and Jean-Rene Balekita's Congolese rumba group. 
 Jean Rene Balekita & Bomoyi (Congolese Rumba Group) 
"Jean Rene Balekita is the founder of the musical group Bomoyi, which performs original songs blending Congolese Rumba and Gospel styles. Bomoyi has released popular recordings and musical videos in the Democratic Republic of the Congo, which resulted in musical tours through Europe and the United States in 2009. When Bomoyi returned to the United States in 2015, Balekita settled in Champaign-Urbana and has performed in a number of local venues, from the Krannert Center for the Performing Arts to the Rose Bowl Tavern. Balekita is committed to sharing the cultural arts of his country and reaching people from different socio-cultural backgrounds." 

Bloco Gavião 
An Afro-Brazilian inspired community drum ensemble developed in collaboration with Capoeira Angola Center of Mestre João Grande-Illinois committed to promoting access to the beauty and richness of Afro-Brazilian musical traditions. 
 
David Chiriboga, a musician of Ecuadorian decent was born and raised in Chicago. David's style is rooted in the Spanish Guitar. He has studied throughout Andalusia, the south of Spain and also received his degree in Music Performance at Northeastern University in Illinois. Besides performing with his own ensembles, David also performs and tours nationally and internationally with Ensemble Español Spanish Dance Company. 
 
The Illinois Flamenco Jazz Collective was created by saxophonist Brian Stark and dancer Alyssa Teijeiro-Ficht in January 2020 as a result of a grant from the Center for Global Studies and the European Union center, which allowed them to conduct a series of workshops with David Chiriboga and dancer Mia Angela de Lourdes. Drawing from the U of I student body and the local community, the collective stayed active by recording a releasing a series of remote videos through the pandemic, and since then has played events for the Urbana Arts Grant and the CU Folk and Roots Festival.