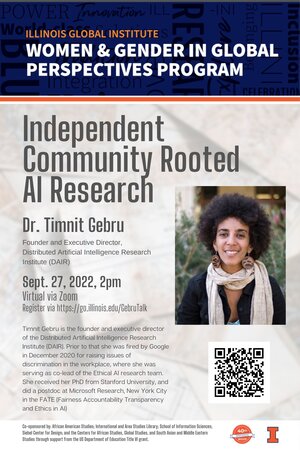 On September 27, 2022 2pm CST, Dr. Timnit Gebru presented talk, Independent Community Rooted AI Research" virtual talk.
Dr. Timnit Gebru is the founder and executive director of the Distributed Artificial Intelligence Research Institute (DAIR). Prior to that she was fired by Google in December 2020 for raising issues of discrimination in the workplace, where she was serving as co-lead of the Ethical AI research team. She received her PhD from Stanford University, and did a postdoc at Microsoft Research, New York City in the FATE (Fairness Accountability Transparency and Ethics in AI).
This talk was hosted by the Women and Gender in Global Perspectives Program.
Co-sponsored by: African American Studies; International and Area Studies Library; School of Information Sciences; Siebel Center for Design; and the Centers for African Studies, Global Studies, and South Asian and Middle Eastern Studies through support from the US Department of Education Title VI grant.