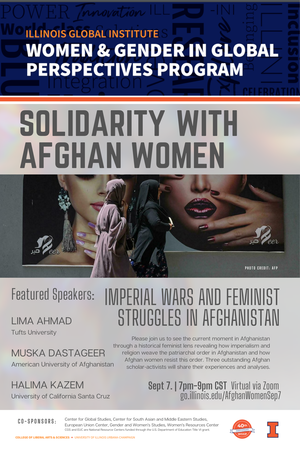 On September 7, 2021 12:00pm the panel on "Solidarity with Afghan Women" Imperial Wars and Feminists Struggles in Afghanistan" took place.
The panelists discussed current moment in Afghanistan through a historical feminist lens revealing how imperialism and religion weave the patriarchal order in Afghanistan and how Afghan women resist this order. Three outstanding Afghan scholar-activists will share their experiences and analyses.
Panelists include Muska Dastageer (American University of Afghanistan), Halima Kazem (UC Santa Cruz), and Lima Ahmad (Tufts University).
Co-sponsors: Center for Global Studies, Center for South Asian and Middle Eastern Studies, European Union Center, Gender and Women's Studies, Women's Resources Center.  The Center for Global Studies and the European Union Center are National Resource Centers funded through the U.S. Department of Education Title VI grant.