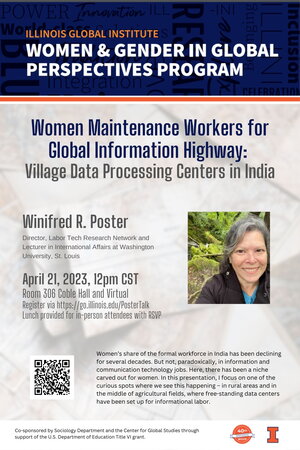 On April 21, 2023, WGGP hosted Dr. Winifred Poster (Washington University, St. Louis) for hybrid talk "Women Maintenance Workers for the Global Information Highway: Village Data Processing Centers in India".
Women's share of the formal workforce in India has been declining for several decades. But not, paradoxically, in information and communication technology jobs. Here, there has been a niche carved out for women. In this presentation, I focus on one of the curious spots where we see this happening - in rural areas and in the middle of agricultural fields, where free-standing data centers have been set up for informational labor.
Co-sponsored by the Department of Sociology and the Center for Global Studies through the support of the U.S. Department of Education Title Vl grant.