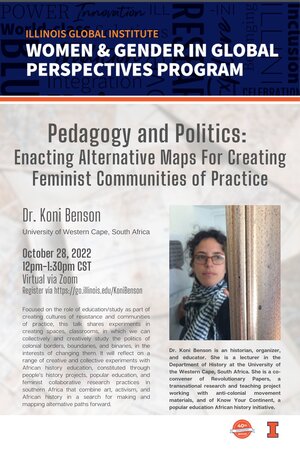 On October 28, 2022 at 12pm CST, Dr. Koni Benson presented, "Pedagogy and Politics: Enacting Alternative Maps for Creating Communities of Practice" during a virtual talk.  
Dr. Koni Benson is an historian, organizer, and educator. She is a lecturer in the Department of History at the University of the Western Cape, South Africa. She is a co-convener of Revolutionary Papers, a transnational research and teaching project working with anti-colonial movement materials, and of Know Your Continent, a popular education African history initiative.
This talk focused on the role of education/study as part of creating cultures of resistance and communities of practice, this talk shares experiments in creating spaces, classrooms, in which we can collectively and creatively study the politics of colonial borders, boundaries, and binaries, in the interests of changing them. It will reflect on a range of creative and collective experiments with African history education, constituted through people's history projects, popular education, and feminist collaborative research practices in southern Africa that combine art, activism, and African history in a search for making and mapping alternative paths forward.